Chris Johnston
CEO & founder , Adoreboard
Measurement for Better CX
It was back in 2014 that Steve Cannon, CEO of Mercedes Benz USA stated 'Customerexperience is the new marketing." But what has really changed since that hemade that infamous statement and has the paradigm shift mooted by Cannon reallycome to fruition?
Research by my own company Adoreboard, an emotion analyticsfirm, confirms that Cannon's vision has come true in part. Yes, it's clear thatcustomers have a new voice sitting at the highest levels of power in businesswith the mandate to improve customer experience. This has been shown by our ownaudit of Fortune 100 companies examining how rapidly the role of Chief CustomerOfficer or associated titles have grown. In the last 3 year the rolesassociated with Customer Experience has grown a whopping 20% since 2014. Whilstthis speaks to a new trend of customer centricity within firms, it doesn'tanswer the key question that how improving customer experience could have thesame contribution as marketing to business growth.
It also begs the question that has plagued marketing fordecades. What is the best way to measure the voice of the customer to createbetter customer experience? With the rise of the Chief Customer Officer inorganisations measurement is just one of the challenges. But let's not getahead of ourselves and ask some of the questions that relate to the key elementsof measurement for better CX.
I am sure you've often pondered on a pleasant sunny afternoon:how do you really create a single view of customer experience? Or what is thebest approach to a measurement framework for a holistic understanding ofcustomer journey? And why should you care about customer emotions as a keymeasure of success for your CX programme?
Well if you haven't, Maxie Schmidt-Subramanian, PrincipalAnalyst at Forrester certainly has. Her new report 'The Future of Measurementfor CX' aims to shed light on many of these questions and more. In fact shededicates a full section as to why CX professionals should "Upgrade toAnalytics That Drive Action". Not surprisingly emotion, which drives 80% ofcustomer decision making, features. Maxie even finds time to give a shout outto Adoreboard when describing the role of Artificial Intelligence in improvingCX, in which she says "Emotion analysisvendor Adoreboard uses common sense reasoning with affective computing, an AItechnology to create an index for each primary emotion in Plutchik's wheel."
Like Maxie we've also thought hard on how to create better CXthrough measurement. So what are the three steps for defining bettermeasurement for CX? Let's take a look at each one in turn.
1. Integratecustomer touchpoints: The first step is to start from the customerperspective rather than what data or channel information you have available. Bytaking this perspective you can start to identify how to integrate various datasources ranging from the traditional such as NPS verbatim, social data, productreview, sales data, call centre transcripts to structured data such as CSATdata. Each data will provide a different 'signal' from customers. Byintegrating these you can combine these multiple perspectives into a singleview of customer.
2. Understand what drives emotions: Let'sstart by saying that any customer experience programme that treats customeremotion based on sentiment analysis is redundant. That's right sentimentanalysis is dead. To truly understandcustomer emotions is not to understand the nuances of the intensity of emotionsbeing expressed but what themes or CX attributes do these relate to. It's byuncovering the emotional drivers for the CX themes that you can truly discoverdecision ready insight.
3. Turn these into 'Decision Ready Insights': The final step is the ability to take decisive andtargeted action using the information gained from this analysis. In many waysCX measurement is not about the data but the decisions CX professionals cantake from the data. As an example Adoreboard worked with a large Europeantransport company, operational they had a fair idea of the key factorsimpacting CX. The challenge they faced was prioritising these issues as theyrelated to CX. Based on the intensity of emotion the Emotion AI identified thatit was poor WIFI that was having a disportionate on experience of passengers.Once the company acted upon this insight, by investing $500,000 in the WiFiservice, this led to a 74% decrease in detractors and increased positive socialmentions of the network's WiFi service by 500%.
You're probably thinking what happened to good old Steve Cannon - well he's got a newjob. He stepped down as CEO of Mercedes Benz in 2016 according to his Linkedinbio to become the CEO of AMB Group which counts in its portfolio counts Falcons, the Atlanta United soccer teamand of course the Mercedes-Benz Stadium.
His originalpoint still resonates that emotional experiences can drive better connectionwith brands more so than any marketing.
A pointreinforced by the fact that upon finding that 70% of people who were sellingMercedes Benz had never been behind the wheel of a Merc, Cannon invested $4m toenable employees and their families drive 750 Mercedes Benz cars. In his wordsby doing so people 'create emotional connections' by describing theirexperiences of driving a Merc to prospective buyers.
And a pointyou should take to heart in the design of your measurement programmes forbetter CX in the months and years ahead.
So iscustomer experience the new marketing? Yes, but the challenge of customerexperience is only just beginning. Now marketers and business leaders need tore-evaluate traditional customer service measures such as NPS and use moreexploratory analysis such as Emotion AI that can uncover previously untappedcustomer insight.
---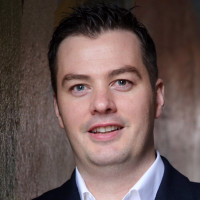 Chris Johnston
CEO & founder
Adoreboard